Save time and money, with software made for your business.
Skimmer's feature set is designed to save you time, increase your bottom line, and keep your customers and team members happy.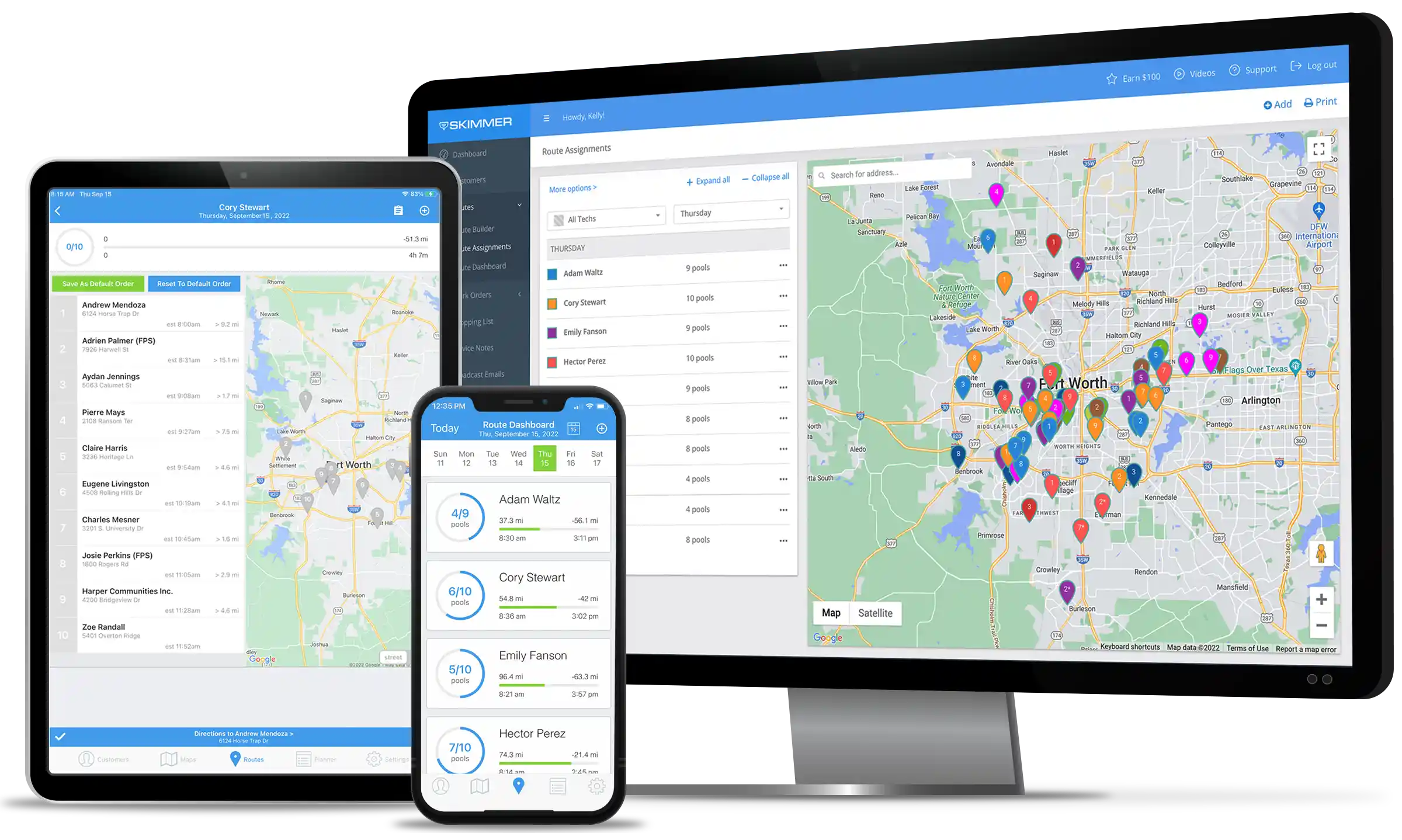 Optimize your routes to save time and money
Experienced pool pros know the better you optimize your routes, the more money you make. Driving time is wasted time, and fuel expenses can quickly add up.
Once you see your entire day's route on a map, you'll wonder how you ever lived without it. Immediately, you'll see ways to reduce travel time and increase profits.
Skimmer calculates the total miles and time it will take to complete the day's route for you. No guessing. No hoping. Just the exact numbers you need to create the perfect route.
Drag and drop the route stops in the order you want them. After every change, Skimmer re-calculates distance and time for you.
Save Your Optimized Route
Now that you've created the perfect route, save it as your new default. Every week from here on out, you will run the fastest route possible!
Adjust your whole week, in just a few taps
Your route is always changing. A job takes longer than expected. A tech gets sick. A customer has a special need.

Easily make changes.
Skimmer makes it easy to temporarily move route stops from one tech to another or to a different day of the week. No papers to exchange. No binders to swap. No techs to meet. And no customers that get missed.

Simply tap, move, and get on with your week. Exactly what you'd expect in pool service software designed for modern pool professionals.

Watch the 2-minute video.
Watch the video to see how Skimmer makes it easy to make one-time moves.
Track readings and dosages, faster than ever
Think nothing could be as fast as writing values down? Skimmer is the fastest way to enter all your readings and dosages. All service history is saved to the cloud automatically. Plus, you can fully customize the values to choose, and include some or all of them in the emailed service report after each stop.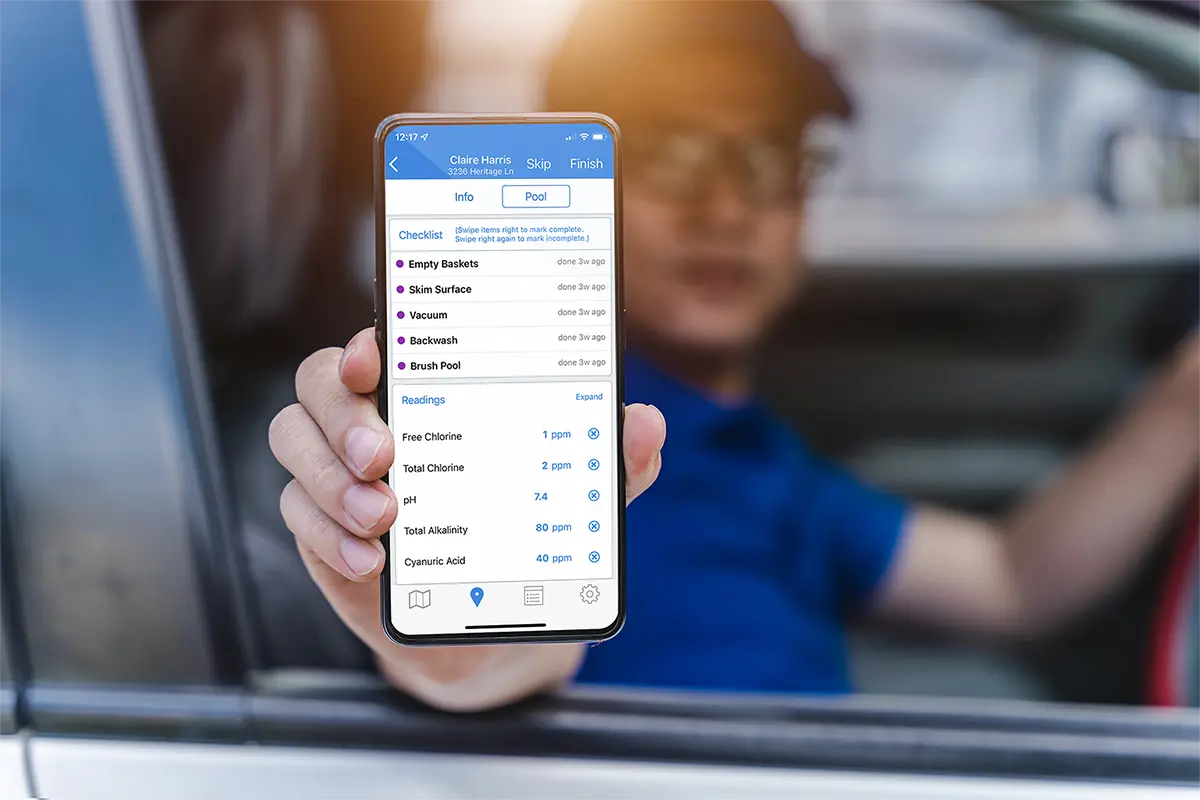 Work anywhere, online or offline
Do you service pools in areas with limited internet connectivity? No problem! Skimmer mobile app for iOS and Android works the same whether you have an internet connection or not. Simply service your pools and complete tasks in the field, and your app will stay in sync with the cloud once you regain service.
Never forget a part again
Ever forget to buy a part? Or install it? Or even bill for it? Yeah, we've all been there. That's why Skimmer tracks a part from the moment it's needed until the time it's billed for.
So nothing ever gets forgotten.
When you need a part for a customer or to stock on your truck, add it to the shopping list.
Then you'll know exactly what to buy on your next trip to the wholesaler.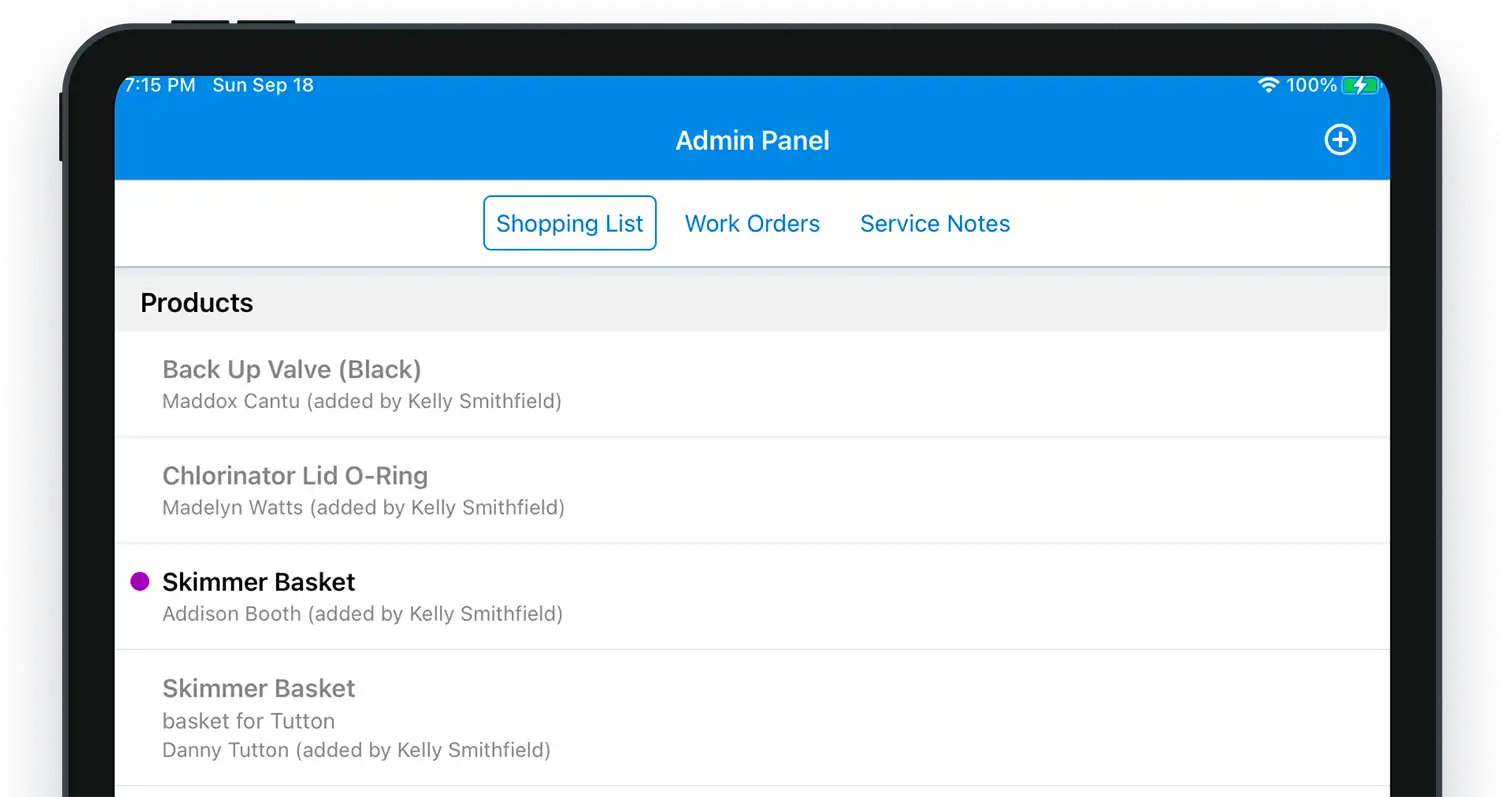 When you start your route for the day, Skimmer lists all of the parts needed for your customers.
So you'll never leave home without a part again.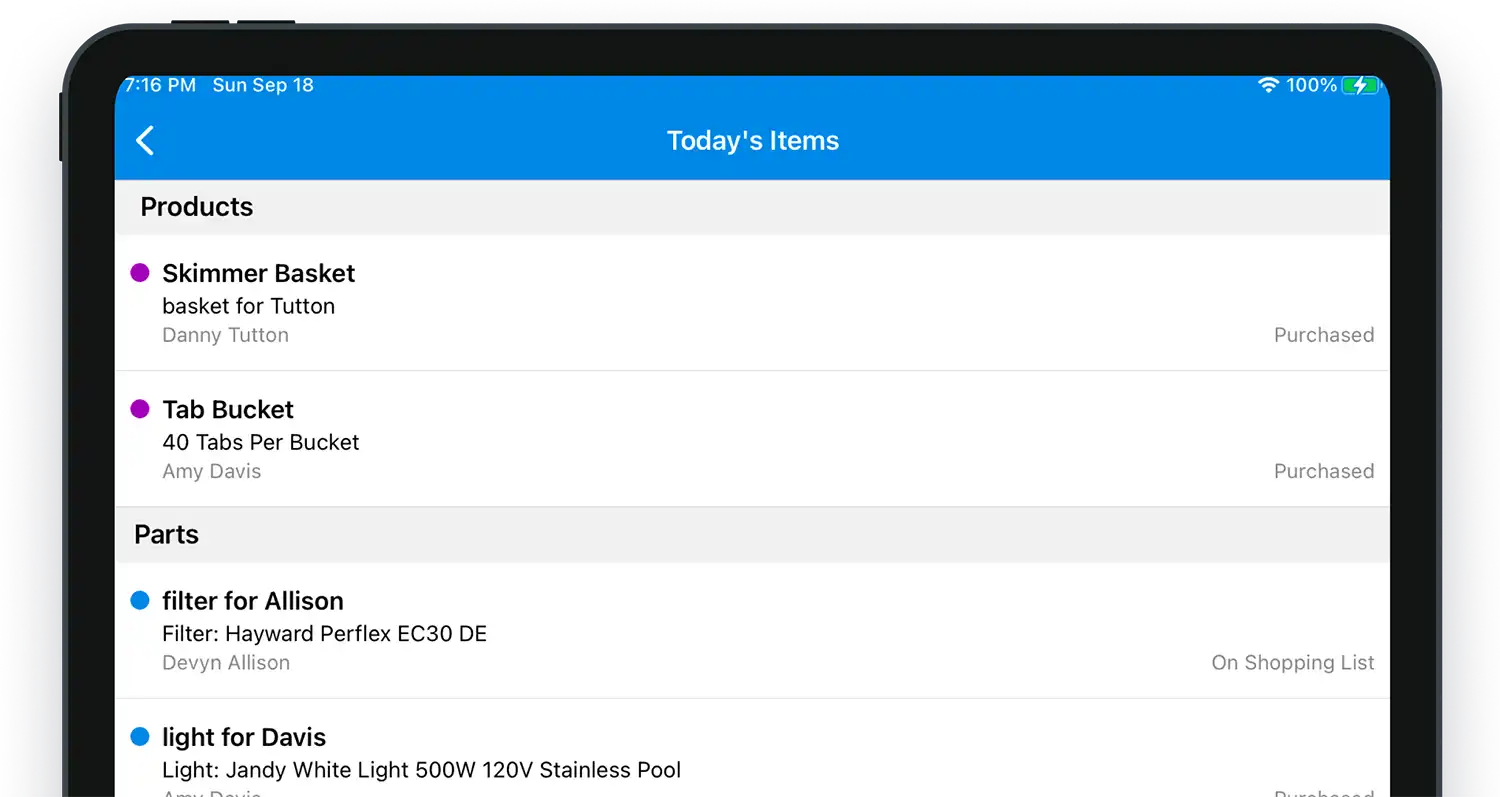 When you arrive at your service stop, Skimmer reminds you to install the part.
Once you have, a simple swipe tells Skimmer it's installed.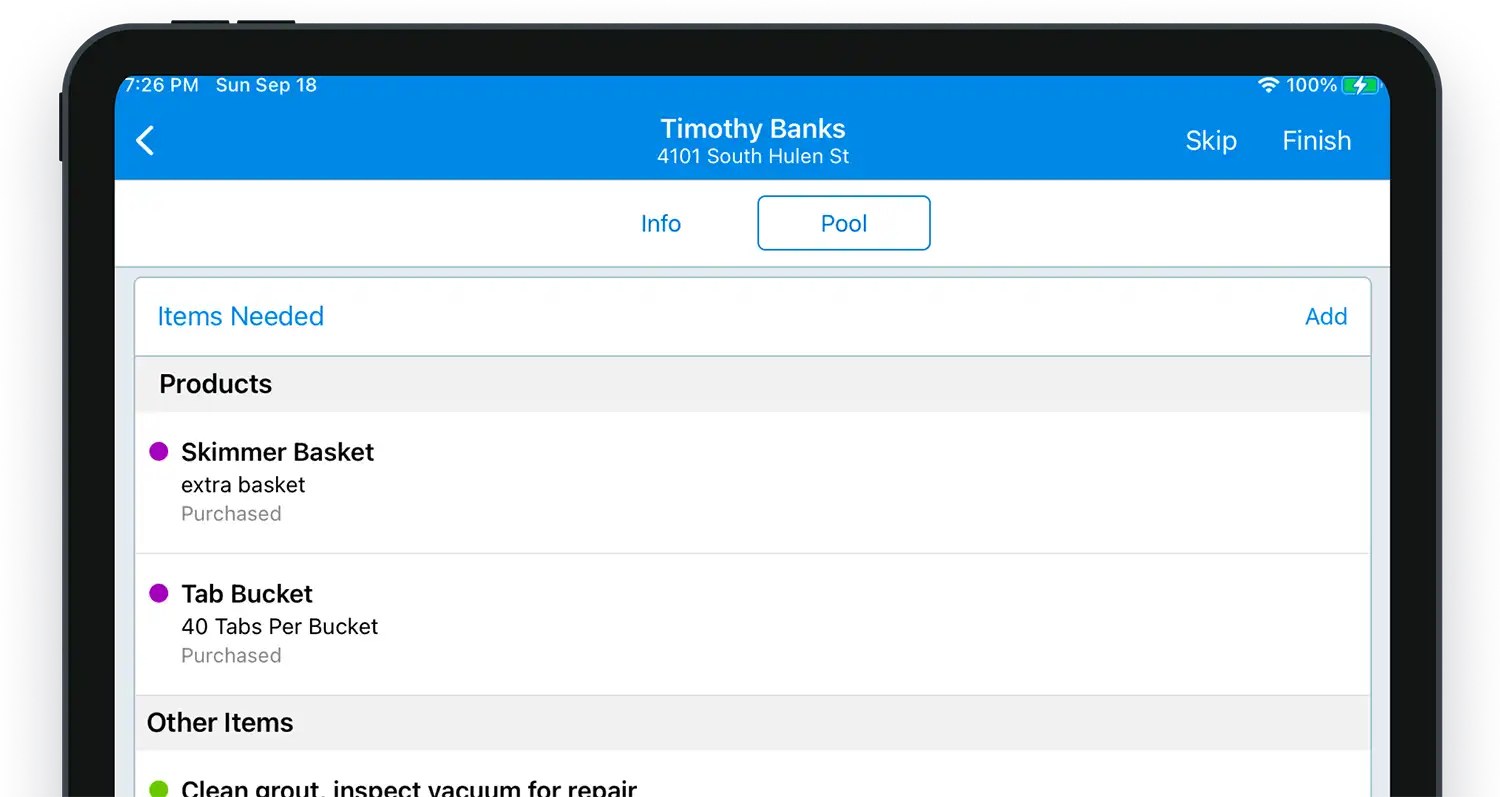 Ready to invoice your customers? Skimmer shows you all the parts installed for each customer.
So you'll never forget to bill for a part.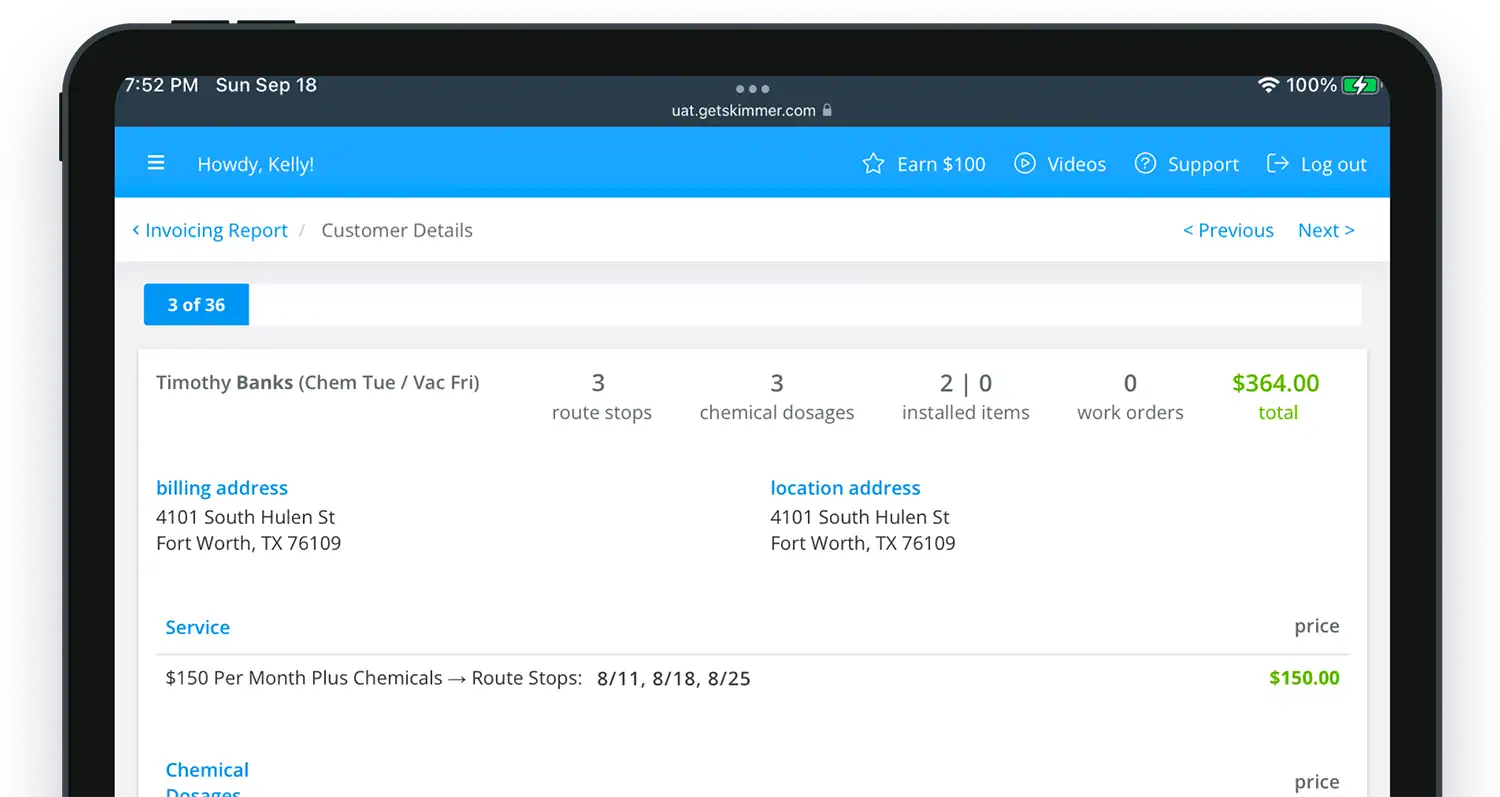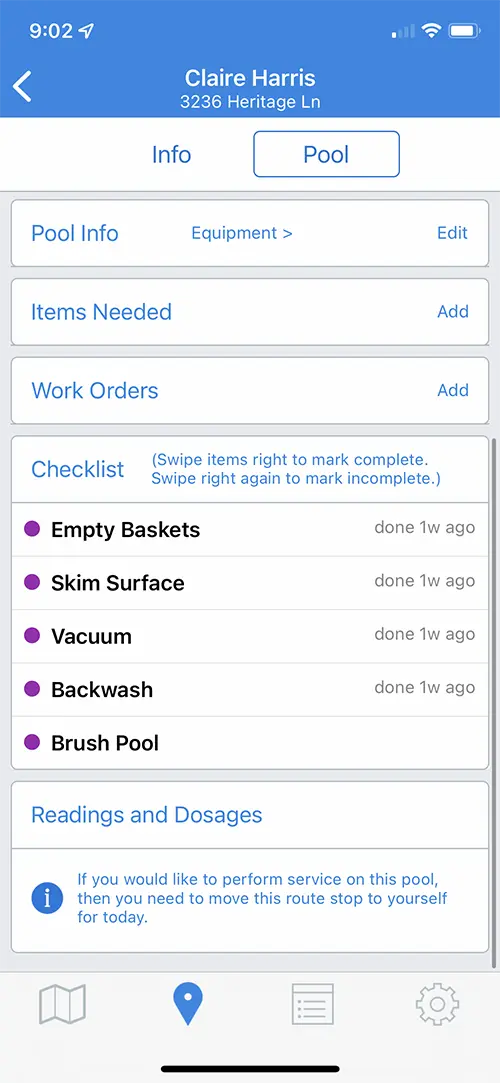 Checklists, tasks, to-do items, and more
With Skimmer checklists, you can rest assured that your techs are performing the necessary tasks for each customer. Create universal checklists for every engagement, or configure them by customer, location, or work type. Customize the order, name, and response when the task is complete, which makes it ideal for more complicated workflows or necessary communications.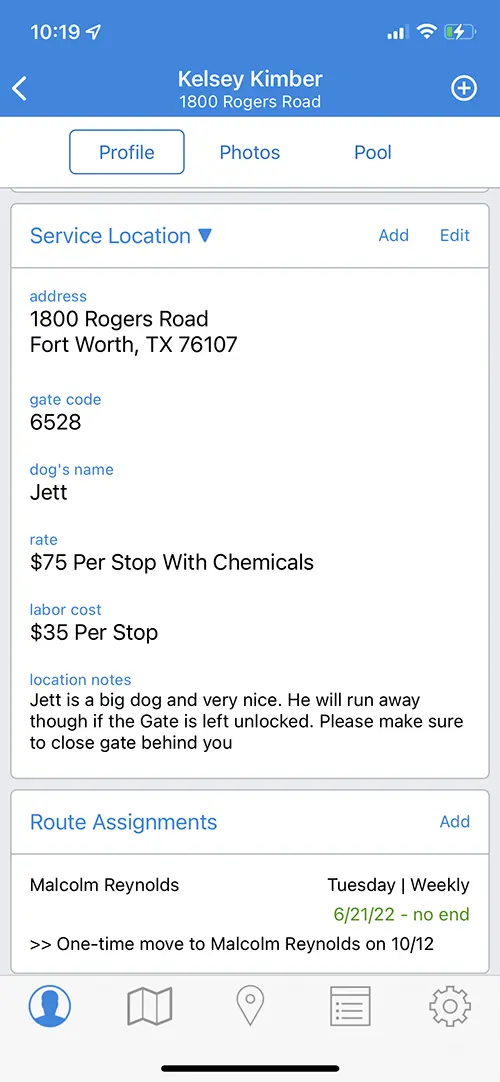 All your customers' info, at your fingertips
Never pull up to a gate without the code again! Track all of your customers, including chemical readings and service history across multiple locations and bodies of water. With Skimmer pool service software, you always have the most up-to-date customer information with you, including gate codes, pet names, equipment, and photos. And so do all of your techs.
Email beautiful service reports automatically
Filling out door-hangers and leaving them at each pool is a huge pain. With Skimmer, you can email your customers a beautiful service report automatically, and it will look great on any device!
Customize Your Service Report
Add your company logo and include only the details you choose, such as chemical readings, dosages, and completed checklist items.
Include Photos with Every Stop
Make sure your customers know you were there by including photos and showing them how good their pool looked when you finished service.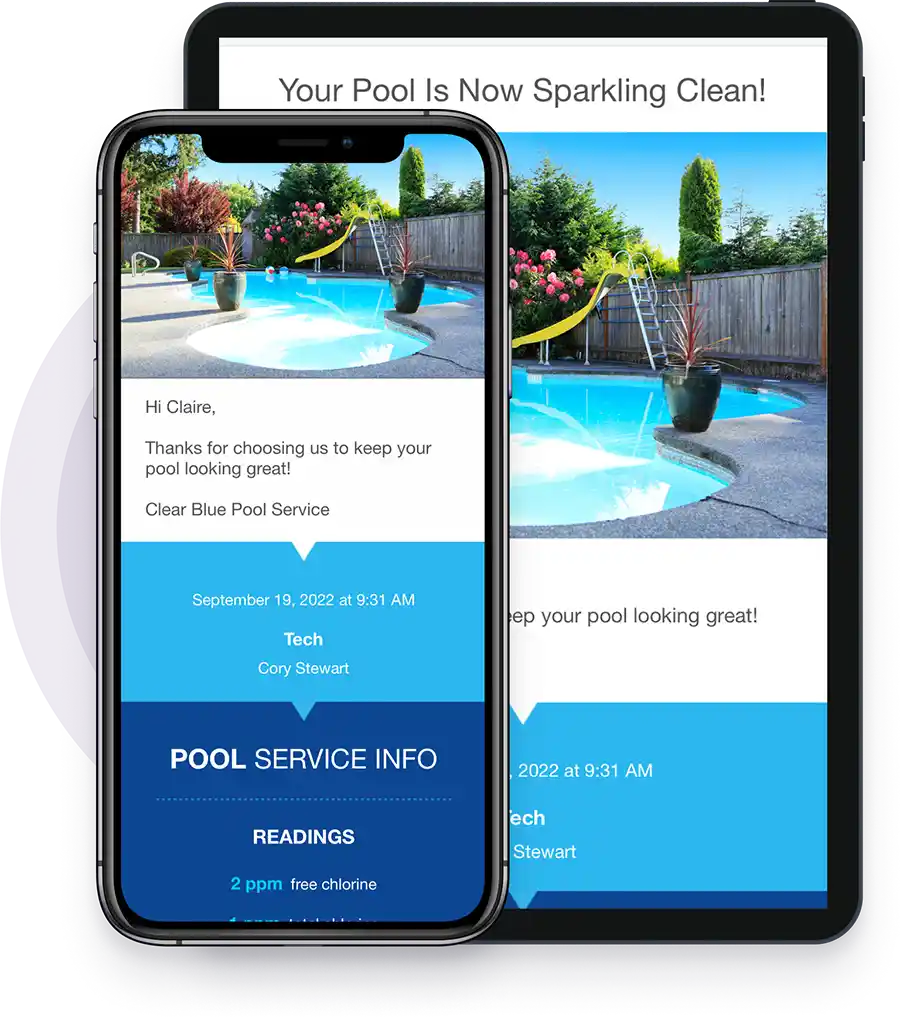 Track recurring jobs without having to remember anything
Tracking filter cleanings, pool openings, and salt cell cleanings can be a real pain. It's so easy to miss a customer and lose out on that money. Using a recurring work order, you'll never have to worry about that again.

Skimmer tracks everything for you.
Simply tell Skimmer the last time you cleared a customer's filter, sit back, and let Skimmer remind you every time you need to clean the filter again. You don't have to track it or remember it. You can also create custom checklists and tasks for each type of recurring job as well.

Watch the 2-minute video.
Watch the video to see how Skimmer makes it easy to track recurring jobs for all your customers.
Say goodbye to spending hours processing invoices
No more wasting hours just to get paid. Generate and send invoices quickly and easily with Skimmer Billing or issue invoices with our Quickbooks Online integration.
Set up your payment account, assign tax rates for taxable items, and set billing terms. Customize the invoices and receipts with your company's contact information and logo.
Work assigned and completed in field, including services, parts, & chemicals are logged and stored for inclusion in the invoice automatically so nothing falls through the cracks.
3. Generate & Email Invoices
Generate and send invoices in just a few clicks. Easily see who has paid, who is overdue, and send payment reminders with ease. Performing regular service? Skimmer Billing supports AutoPay, too.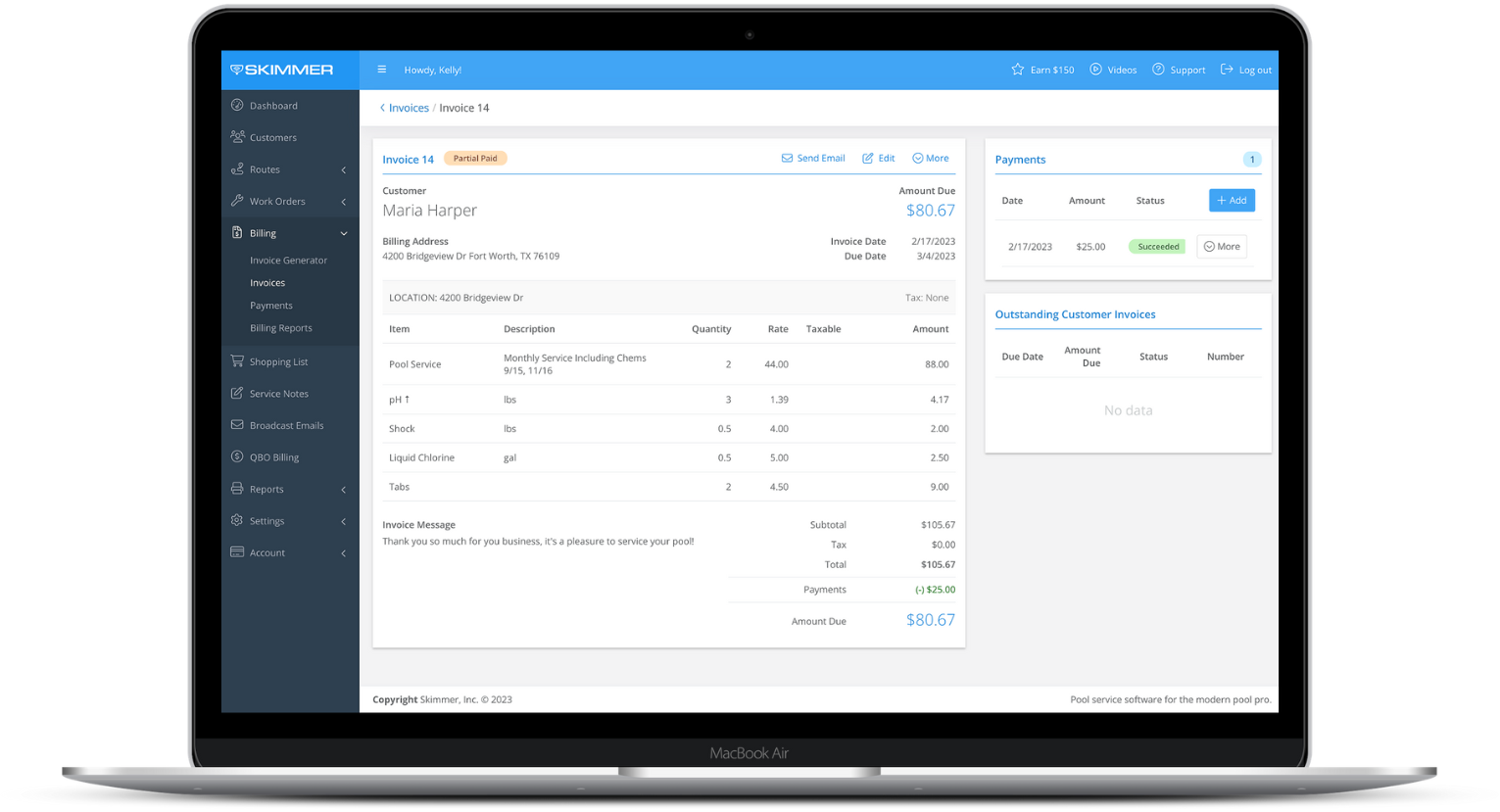 Gain insights and improve your bottom line with Skimmer reports
Skimmer allows you to generate reports on all aspects of your service such as invoicing, profitability, labor, chemical dosages, and installed parts and products. Skimmer reports make it easy to forecast chemical needs and make rate adjustments for unprofitable customers.
Track number of route stops, dosages, installed items, work orders by customer and location with charge rates for all.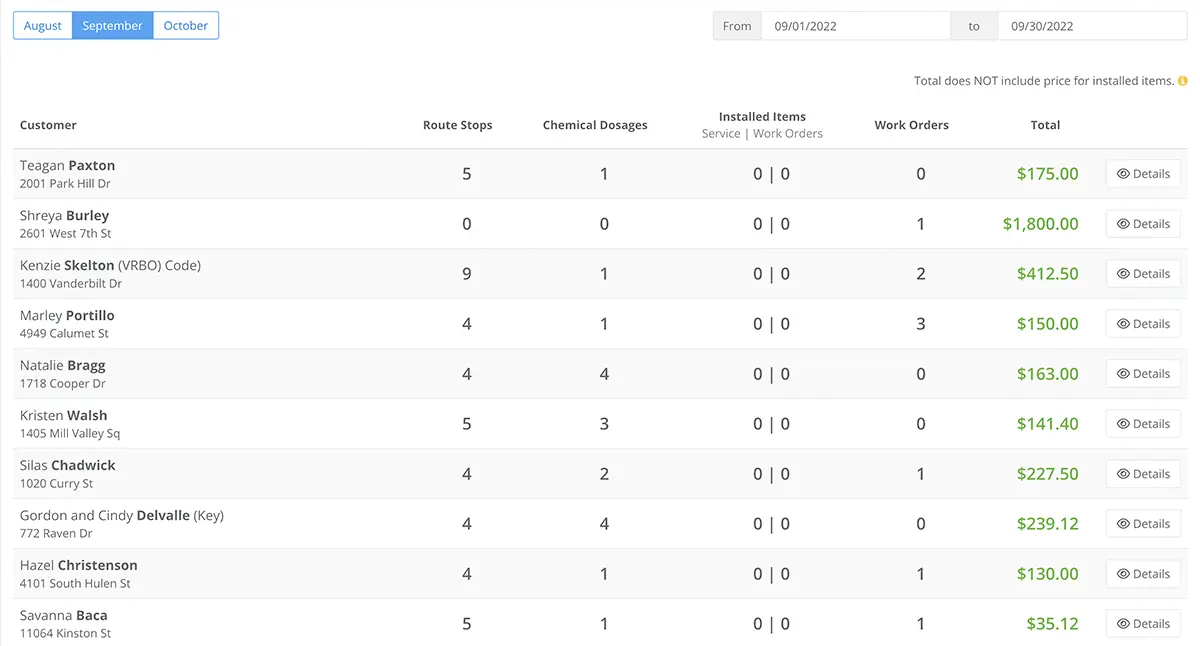 Track profitability across all service and all dosages by customer.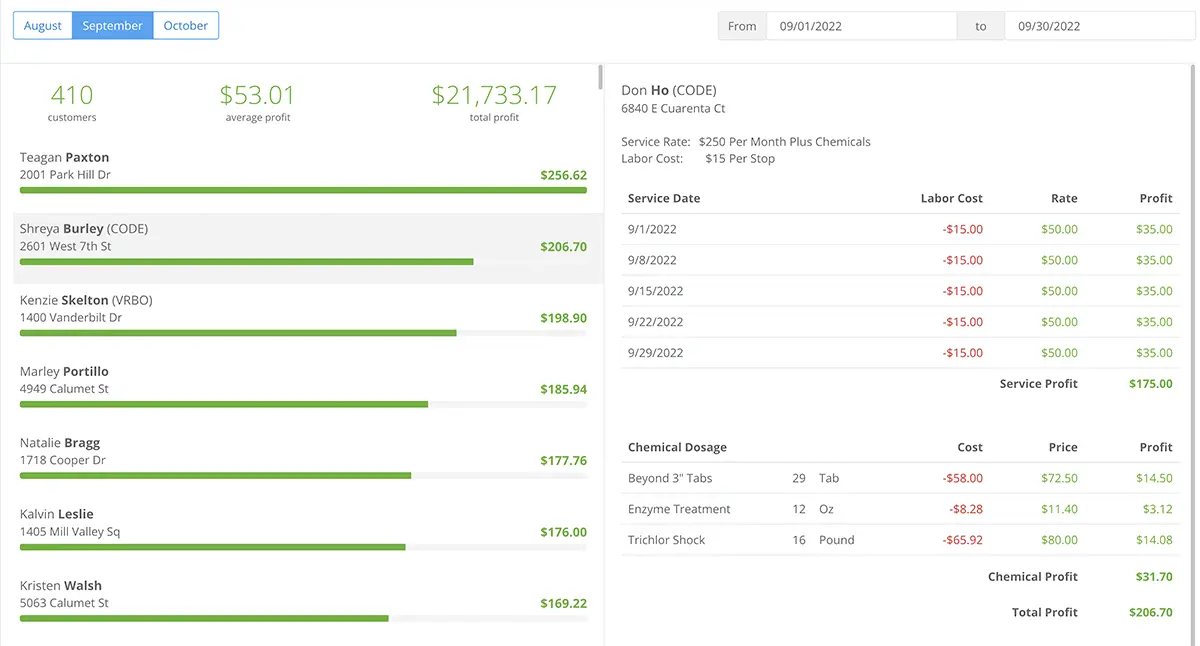 Track labor and cost by tech for service and work orders.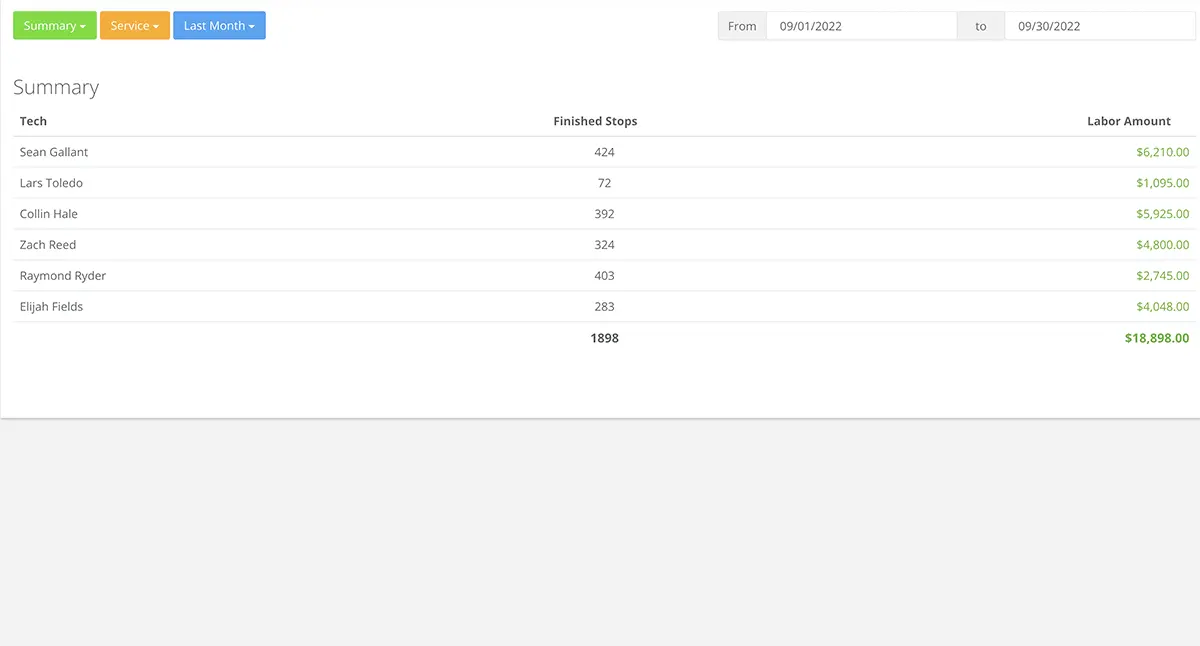 Track installed products and parts by customer for service and work orders.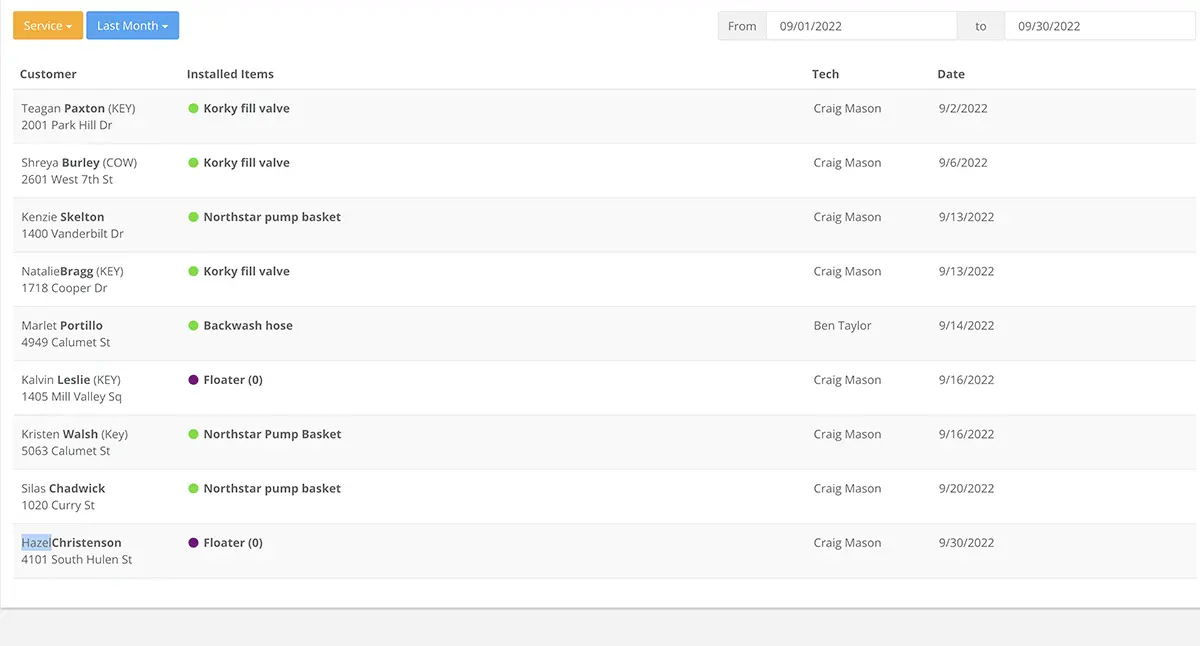 Track all dosages by tech, by chemical, and by customer with cost and rates.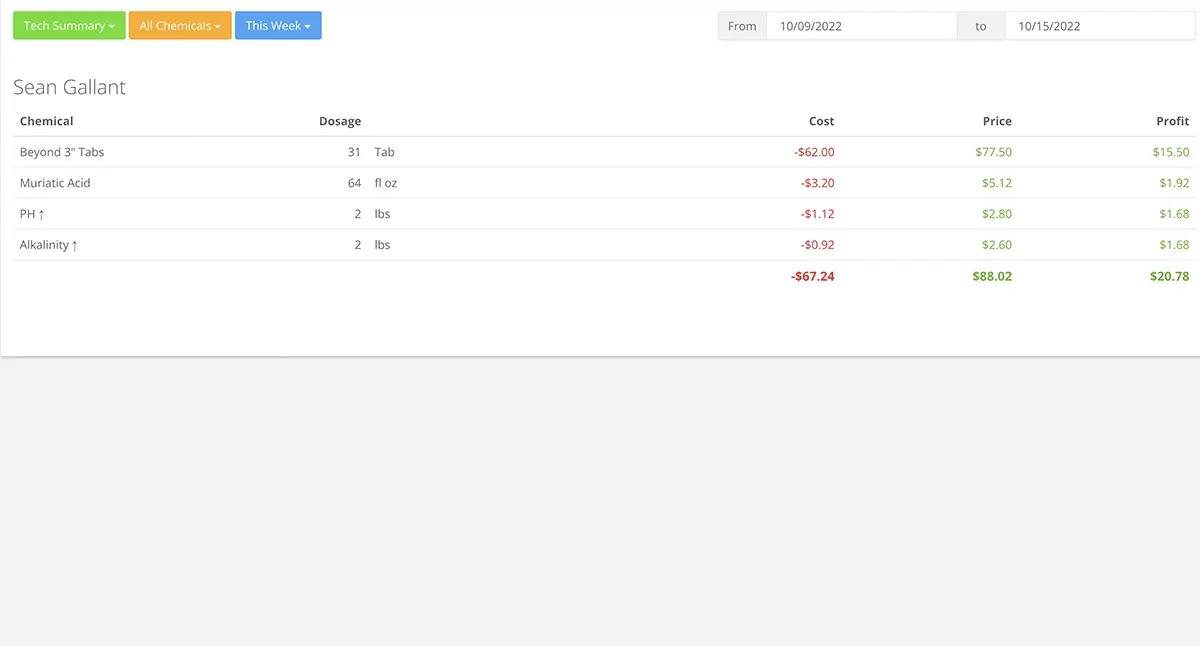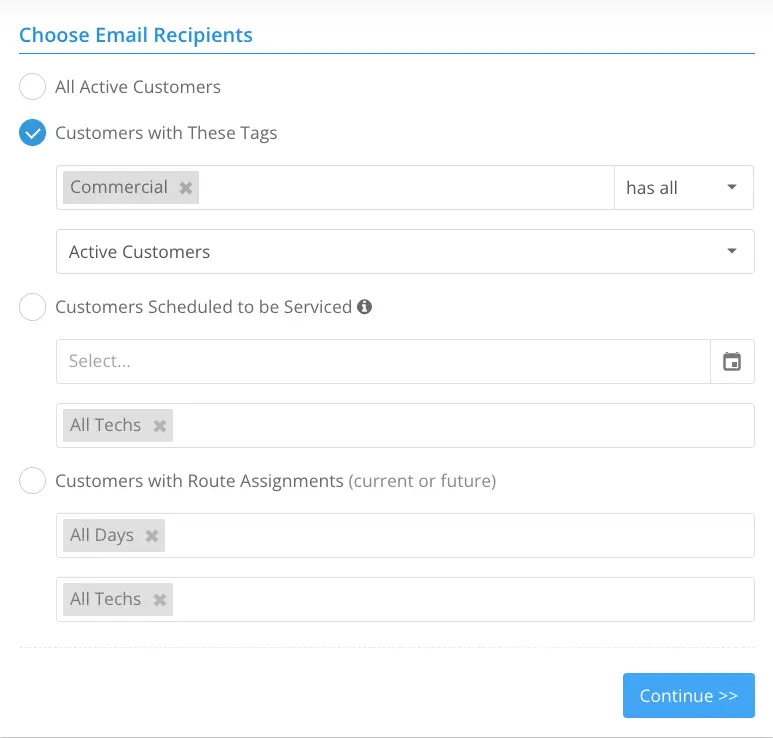 Reach out to your customers, fast and easy
Need to send reminders for equipment maintenance? Want to run a seasonal promotion or inform your customers of a service interruption? Using Broadcast Emails, you can communicate with all or some of your customers quickly and easily. Skimmer makes it a snap to target your customers so you can maximize your service revenue.
Run your pool business from anywhere